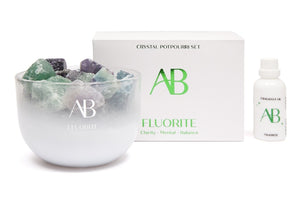 Fluorite is a powerful crystal. Known as an absorber of negative energy and to increase confidence.

A blend of ripe pear, ginger, rose and jasmine. Aromabotanical's potpourri set can be used by pouring over a few drops of fragrant oil to your preferred fragrance level and refresh as often as desired.

Glass Bowl, Crystals and 50ml Fragrant Oil | Free from animal testing.