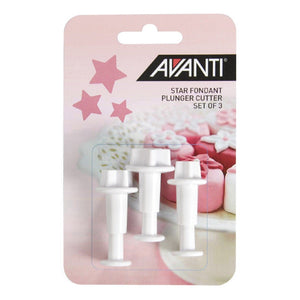 The Avanti® Set of 3 mini Star Fondant Plunger Cutter set is the perfect tool for creating star shaped decorations for cakes, cupcakes and desserts. Suitable for use with rolled fondants, royal icing, gum paste, marzipan and non-edible craft clays. Each cutter features a spring mechanism which helps cut and release the icing to form perfect stars. The result is elegant and tasty decorations for your cakes and favourite desserts. The set comprises 3 Star Plunger Cutters in sizes 12mm, 16mm and 20mm.
• Roll out fondant or gum paste on a non-stick surface or sprinkle corn flour/icing sugar on surface and fondant to prevent sticking.
• Cut out the star shape without pressing the plunger
• Press the plunger to release the star.
• Eject star on to a soft foam sponge to dry or use immediately on the cake.