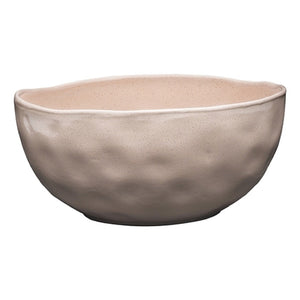 Make any meal more enticing and welcoming with the Ecology Speckle Laksa Bowl.

The organic-shaped pieces of the Speckle Cheesecake range feature a soft speckle and a dimpled, tactile finish. Designed in Australia and crafted from durable stoneware, the result is a milky white dinnerware collection that can effortlessly stand alone, or combine with coloured pieces from the wider Speckle range to add bold accents.

Features:
-The Ecology Speckle Laksa Bowl in Cheesecake is 20cm.
- Dimensions:
Length: 20cm
Height: 9cm
- Designed in Australia.
- Reactive Glaze.
- Finished by hand, each piece is unique.
- This item comes in a coloured gift box for easy gifting.