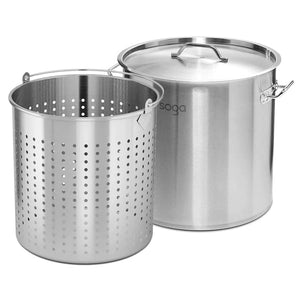 Product Description
Features:
SOGA Stockpot with Perforated Pasta Insert is a high commercial quality 18/10 stainless steel cookware; classic, sleek look; visually appealing and fitting of any setting, does not show scuffing or marks, there is no staining and no rusting.
Heavy Duty Thick Sandwich Base
Perforated Pasta Insert is convenient when you're cooking pasta, potatoes, seafood, corn on the cob, and other vegetables.
Heavy duty; extremely strong, dependable, and well-constructed, will last for a very long time.
The perfect accessory for your outdoor cooking equipment.
Handle for convenient carrying
The premium quality stainless steel won't react to food and cleans easily
European design
Longer durability
Competitive price around Australia market
Note: Stockpot sizes/dimensions on the picture are the internal size of the stockpots only and not including the handles, lid, and edges.
Specifications:
Material: Stainless Steel
Stockpot Size: 33L
Pasta Insert Size: 21L
Usage:
Commercial Kitchen
Home Cooking
Package Includes:
1 X Stockpot with Lid
1 X Pasta Insert with Handle