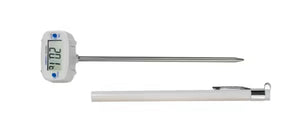 The Cuisena "Easy Read" Digital Thermometer takes all the guesswork out of cooking. Its super simple to use and is an essential gadget for the discerning home hobby cook.

FEATURES:

Easy "quick check" digital thermometer that takes the guesswork out of cooking
Digital display head swivels for easy reading at any angle
Stainless steel probe with protective cover, battery supplied
-45°C to 200°C
HOLD button allows you to lock in the measured temperature

Clean with damp cloth

PLEASE NOTE : KEEP BATTERIES OUT OF REACH OF CHILDREN. This product contains button cell batteries that can cause severe or fatal injuries, in 2 hours or less if they are swallowed or placed inside any part of the body. If you suspect a child has swallowed or inserted a button cell battery, seek immediate medical attention. Call immediately the 24 Hour Poisons Information Centre on 13 11 26.

Dispose of used button batteries immediately and responsibly. Place sticky tape around both sides of the button battery and dispose of them immediately in an outside bin, out of reach of children, or recycle safely.