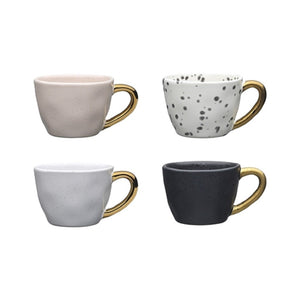 A cup of tea or coffee has never looked so stylish with the Ecology Speckle Set of 4 Espreso Cups with Gold Handle

When you're after that added touch of glamour, you can't go past the Speckle gold handled espresso cups in an assorted set of four. Featuring a dimpled texture and reactive glaze that gives each piece a unique look, these tapered mugs are finished with a luxe gold painted handle perfect for gift-giving or to make your night time coffee that extra bit special.

The Ecology Set of 4 Espresso Cups Mixed 60ml includes:
1 x Ecology Speckle Mug Ebony 60ml
1 x Ecology Speckle Mug 60ml
1 x Ecology Speckle Mug Cheesecake 60ml
1 x Ecology Speckle Mug Milk 60ml


Designed in Australia.
This product features a reactive glaze, variations in colour and design may occur.
This item comes in a coloured-gift box for easy gifting.

Hand wash only
Not suitable for microwave use
Matte glazes may scuff and scratch with use. Please treat with care.