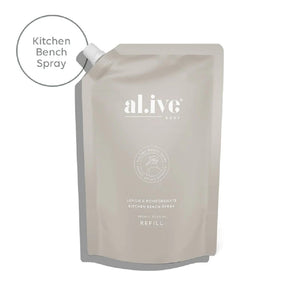 Please note this item cannot be shipped internationally or via express postage. These shipping options will not appear at checkout. ut.

Our refill pouches are designed to refill your existing al.ive kitchen bottles whilst helping to reduce the amount of plastic used. Our refill pouches use 85% less plastic and refill your 300ml al.ive body bottle three times.

The al.ive body Lemon & Pomegranate Kitchen Bench Spray features natural surfactants and fruit extracts, the formula dissolves dirt and grime for easy removal.

Tart pomegranate and bright lemon zest provide uplifting top notes, rounded out with a tropical fruit and warm honey base. This sophisticated scent is an innovation in the kitchen - cleaning products that smell delicious!

BENCH SPRAY INGREDIENTS: Water, Ethanol, Anionic Surfactants (Coconut Derived), Non-Ionic Surfactants (Coconut Derived), Citrus Limon (Lemon) Peel Oil, Punica Granatum (Pomegranate) Fruit Extract, Parfum (Fragrance), Preservatives.