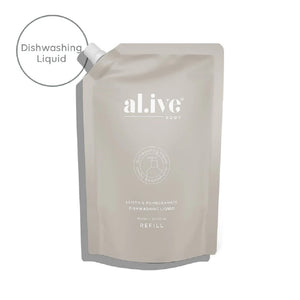 Our refill pouches are designed to refill your existing al.ive kitchen bottles whilst helping to reduce the amount of plastic used. Our refill pouches use 85% less plastic and refill your 300ml al.ive body bottle three times.

The al.ive body Lemon & Pomegranate Dishwashing Liquid contains a luxurious blend of naturally derived ingredients to dissolve even the toughest residues, whilst being gentle on skin.

Tart pomegranate and bright lemon zest provide uplifting top notes, rounded out with a tropical fruit and warm honey base. This sophisticated scent is an innovation in the kitchen - cleaning products that smell delicious!

DISHWASHING LIQUID INGREDIENTS: Water, Anionic Surfactants (Coconut Derived), Non-Ionic Surfactants (Coconut Derived), Amphoteric Surfactants (Coconut Derived), Citrus Limon (Lemon) Peel Oil, Punica Granatum (Pomegranate) Fruit Extract, Parfum (Fragrance), Preservatives.