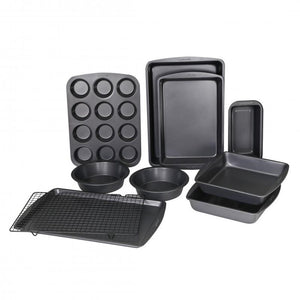 Experience the joy of baking with Baker's Secret 10-Piece Carbon Steel Bakeware Set. This comprehensive set is an absolute must-have for both amateur and seasoned bakers, embodying functionality, durability, and exceptional performance. Crafted with high-quality carbon steel, each piece promises even heat distribution, ensuring your baked goods are cooked to perfection every time. The non-stick coating offers a seamless release of your delicious creations, and it simplifies the cleaning process, allowing you more time to indulge in your culinary masterpieces. The variety in this set is thoughtfully curated to meet all your baking needs, from cupcakes and muffins to roasts and casseroles. With its robust design, this bakeware set is poised to be a steadfast companion in your baking adventures, unlocking endless possibilities in your kitchen explorations.



Features:

Durable Carbon Steel Construction: Ensures longevity and consistent baking results.
Non-Stick Coating: Provides easy release of baked goods and hassle-free cleaning.
Variety of Bakeware: Includes 10 essential pieces to cater to a wide range of baking needs.
Even Heat Distribution: Promotes uniform baking and browning.
Easy to Clean: Designed for convenience in cleaning, supporting a smooth baking process from start to finish.
Versatile Usage: Suitable for a multitude of baking tasks, from desserts to hearty meals.
Heat Resistant: Capable of withstanding high baking temperatures, providing reliability and performance.