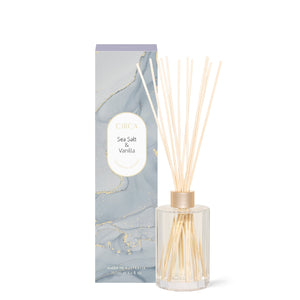 "Our beautifully uncomplicated fragrances are made with love to live in harmony with your home, providing a scented backdrop for whatever your day brings.

Our Fragrance Diffusers are made in Australia and contain nothing but water, alcohol and high quality fragrant oils.The glass bottle is reusable and recyclable.

Elevate your everyday with CIRCA

"
"Our beautifully uncomplicated fragrances provide an effortlessly scented backdropto your home.
Remove the cap and replace with the gold diffuser collar, dipping the reeds into the bottle.
For a more intense and consistent scent, rotate the reeds regularly, immediately wiping away any drips or residual liquid from the top or base of thecap and glass bottle.
Avoid contact with furniture, fabricsand finished wood surfaces."