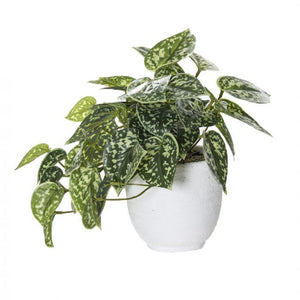 When it comes to decorating with greenery, Rogue's artificial plants are a highly sought-after option.
This pot plant is the perfect accessory to add a splash of colour to your home.
With remarkable attention to detail, it has vibrant colours and features, embodying the character of a real plant.
Being artificial, it offers longer-lasting beauty with no fuss.
It comes in a decorative ceramic pot, creating the perfect statement piece.
Refresh interiors with this pot plant from Rogue.

More Information

COLOR: Green/White
SIZE: 30x30x24cm
MATERIAL COMPOSITION: Plastic/Fabric/Wire/Ceramic
EXTRA FEATURES: Stabilised With Faux Soil In Ceramic Pot. Suitable For Indoor Use.This Potted Aluminium Bush Is Expertly Designed And Hand-Crafted In Melbourne Using Quality Component Sourced Internationally.